dimanche 10 juin
Johnny Cash - 'The Caretaker'
E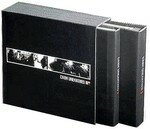 n ce moment, je suis en train de savourer le fameux coffret "Unearthed" de Johnny Cash. Parce que visuellement, c'est trés beau. Mais surtout parce que la voix de Johnny Cash âgé me chatouille (agréablement) les oreilles.
Concrétement, ce coffret regroupe, sur 5 CD, les chansons "oubliées" des albums produits par Rick Rubin pour la série "American Recordings". Entre 1993 et 2003, ce producteur, plus habitué au rap et au heavy metal, a juste permis à Johnny Cash d'enregistrer tout ce qu'il désirait et tout ce qu'il n'a jamais pu faire malgré sa longue carriére : des traditionnels et des chansons contemporaines, chantées seul à la guitare ou avec la complicité d'invités prestigieux. Et ces chansons valent de l'or.
Le livret nous apprend que Johnny Cash a continué d'enregistrer pratiquement jusqu'à sa mort le 12 septembre 2003.
Le premier volume "Who's Gonna Cry" se résume par cette phrase du producteur : "Just sing me the songs that you love". Johnny Cash seul à la guitare, enregistrée dans sa salle à manger.
Mes coups de coeur : l'histoire trés touchante de 'Long Black Veil', le best seller 'I'm Going To Memphis', 'Two Timin' Woman', 'Old Chunk Of Coal' ("I'm just an old chuck of coal but I'm gonna be a diamond some day"),la énième mais indispensable version de 'Dark As A Dungeon' et la "murder ballad" 'Banks Of Ohio' :
"I plunged a knife into her breast
And told her she was going to rest
She cried oh really Don't murder me
I'm not prepare for eternity"
Inutile de dire que ces chansons sont trés émouvantes et que Johnny Cash les chante avec ses tripes ...
Je vous parle des autres disques de ce coffret dans les prochains jours ... il faut faire durer le plaisir !
Commentaires sur "Who's Gonna Cry When Old John Dies"