jeudi 23 octobre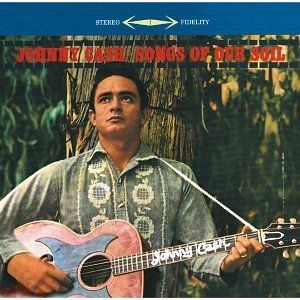 "Songs Of Our Soil", troisième enregistrement chez Columbia en septembre 1959, est pour moi, l'un des premier album vraiment cohérent de Johnny Cash (les précédents ressemblaient plus à des compilations de bons titres sans grand rapport entre eux). Originellement, ces chansons sont un hommage à la dure vie des pionniers américains travailleurs et acharnés, tout ce qu'à vécu Johnny Cash durant son enfance. Par exemple, le titre 'Five Feet High And Rising' commémore la Grande Inondation du Mississippi de 1937 qui dévasta la colonie de Dyess où la famille Cash était installée. Il est également question de précarité et de pauvreté de ces farmers ('The Man On The Hill'), d'acharnement au travail (des chercheurs d'or comme 'Hank And Joe And Me') et d'histoire de familles touchantes ('My Grandfather's Clock' et 'Don't Step On Mother's Roses').
Mais finalement, on a la terrible sensation que la mort hante chacun de ces titres : "Leave him there and let him die / I can't stand to hear him cry for water" ('Hank And Joe And Me'), "The next white man that sees my face is gonna be a dead white man" ('Old Apache Squaw') et même les touchantes histoires familiales sont finalement trés tristes. Mais la chanson qui traduit le plus cette fascination de Cash pour la mort à cette période, est sans doute 'The Caretaker', un titre totalement émouvant et lugubre, chanté d'une voix encore plus basse que d'habitude et dont les paroles (ici) sont bouleversantes. D'ailleurs Rick Rubin a eu la bonne idée de lui faire réenregistrer le morceau que l'on retrouve dans le coffret "Unearthed" de 2006 :
"But who's gonna cry when old John dies
Who's gonna cry when old John dies"
Commentaires sur 1959 - Songs Of Our Soil * * *