mardi 18 novembre
Alela Diane, l'américaine. Des textes et une voix magnifiques. Dans le cadre du festival des Inrocks, elle n'est pas seule mais accompagnée de son père, Mariee Sioux et une autre choriste, Matt Bauer au banjo et ... un batteur pour la seconde partie du set. C'est assez surprenant sur le coup, pas forcément réussi (sur 'White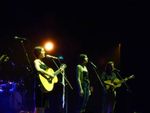 As Diamonds' par exemple) mais finalement, cela donne un côté beaucoup plus country/bluegrass assez entraînant.
vidéo à voir sur le site arte.tv
setlist : Sister Self / Tired Feet / The Cuckoo / Tatted Face / The Rifle / Dry Grass and Shadows / White As Diamonds / To Be Still / Matty Groves (trés beau traditional chanté par Joan Baez entre autre) / My Rambles / The Pirate's Gospel
photos : Robert Gil
à découvrir : un projet parallèle dans lequel Alela prête sa voix sur des covers de Jesus & Mary Chain, Jackson C. Frank, Nick Cave et sur le magnifique 'True Love Will Find You In The End' : Headless Heroes à écouter ici
à noter : sortie le 21 novembre d'un nouveau magazine "Eldorado" bimestriel consacré aux musiques folk, rock, country, blues, americana, indé et bien d'autres ...
--------------------------------------
Laura Marling, l'anglaise, elle ne donne pas envie de chevaucher Jolly Jumper à travers la Californie mais ces compositions sont assez touchantes. Sa voix est plus enfantine que celle d'Alela. Des accompagnements assez discrets ma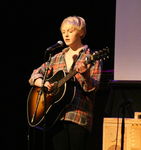 is subtils et variés. Une session en public mais assez intimiste.
vidéo à voir sur ce site
setlist : Rebecca / Ghost / Blackberry Stone / My Manic & I / Your Only Doll / Cross your Fingers / Crawled Out Of The Sea / Alas I Cannot Swim
à se procurer : sa "Songbox" qui a l'air splendide
Commentaires sur Live de la Semaine - Alela Diane VS Laura Marling